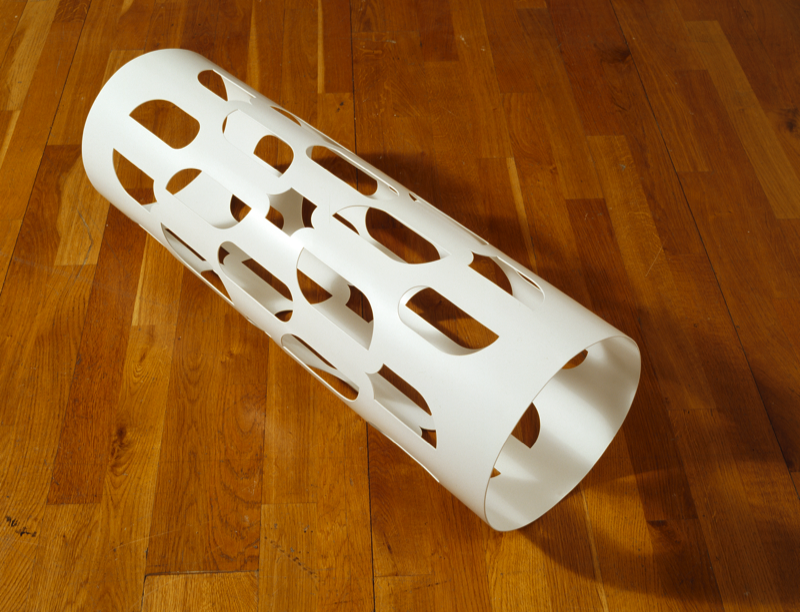 Dreamachine
2004

Metal, powder coated paint 81 x 30cm diameter
Installation shot at Sheppard Fine Arts Gallery, Reno, USA
The Dreamachine, is a simple stroboscopic column designed by Brion Gyson and the mathematician Ian Sommerville in 1959. When travelling on a bus down a tree-lined avenue with his eyes closed, the intense sunlight flickering through the trees induced an hallucinogenic effect on Gyson. At first he thought that he had experienced a vision, it was only later that he came to understand the physiological and neurological aspects at play. Gyson and Sommerville set about duplicate the effect. Their device was cylindrical in form with a light bulb inserted in its center, with carefully shaped slots which allow pulsed light onto the closed eyelids of viewers, as the device rotated vertically on a record turntable.

"It was, in short, a machine meant to help you get over to the other side of reality... Walker and Walker, by re-creating it as a static object it lies on the floor horizontal, are dealing with a symbol of the Beat experience as opposed to the experience itself. When one thinks about it, of course, that's what Friedrich was doing, assembling a catalog of landscape tropes for the Romantic state of being."

Extract from
Re:Reflecting Romanticism, William L. Fox


See also
Until now