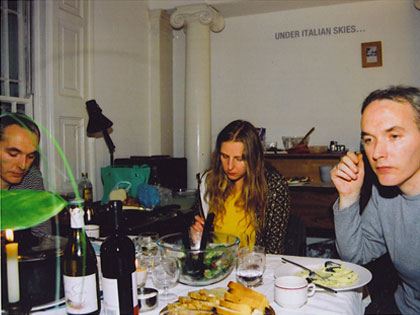 UNDER ITALIAN SKIES

2004, meal, drawing, text on wall, two books. The Return, Goethe Centre, Dublin.

'Under Italian Skies' was an event that took place at The Return in the Goethe-Institut in Dublin. A dinner was served to 12 guests,who were randomly picked from the mailing list. Curated by Vaari Claffey and Grant Watson.

'When the moon hits your eyes...'

The event that took place highlighted Goethe's changing relationship with the moon which differed greatly throughout the course of his life. In Goethe's earlier writings, the moon signified a sense of yearning and utter despair. This is clearly illustrated in his book 'The Sufferings of Young Werther', in which the main protagonist contemplates suicide, in the presence of a full moon. This was changed by the growing relationship Goethe had with Italy and as a result with Classicism. This would have a lasting affect on him and with this, the moon came to signify a sense of serenity. When Goethe first viewed the moon through his a telescope in his garden he entered the following words into his journal under the heading "Observation Lunae - at last, a closer acquaintance with this beloved and admired neighbor".

'To the moon' was a poem written by Goethe to celebrate his friendship with Charlotte Von Sten, where he describes a tranquil walk through the moonlit valley of the river llm. This was printed on the menu and an Italian meal was served. Painted directly on the wall were the words Under Italian skies". This was accompanied by a drawing made by Goethe on one of his many travels in Italy. The drawing was subtitled with a quote from Marinetti in which he declares "let's kill the moon". The book 'The Sufferings of Young Werther' was opened at the appropriate page and placed on the window ledge.